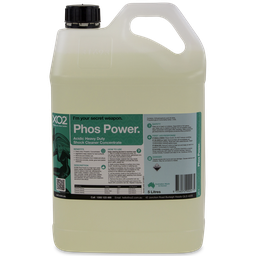 XO2® Phos Power - Acidic Heavy Duty Shock Cleaner Concentrate
Phos Power
I'm your secret weapon.
XO2® Phos Power is a high-tech water based cleaner formulated to effectively remove calcium, lime rust, efflorescence, water scale, oxidation, soap and body fats, concrete, render, grout haze, plaster, mineral stains and most stubborn stains and residues. It also cleans and brightens aluminium and alloys. 
XO2® Phos Power, unlike traditional hydrochloric acid cleaners which cause corrosion, will act as a corrosion inhibitor and rust converter, which eliminates damaging rust and metal fatigue. It's effective on scale and rust deposits on toilet bowls, urinals, shower and bathroom areas, painted surfaces. And ideal for cleaning boats, fibreglass, metal surfaces, concrete, bull bars, aluminium trays, tiles, aluminium, concrete mixers and much more.
Where to use.
XO2® Phos Power can be used indoors and outdoors in multiple applications. XO2® Phos Power is loved by the mining, industrial, construction, tiling and professional cleaning industries because it is effective on many different surfaces including
Ceramic and quarry tiles, Concrete (not polished concrete), Sandstone (unsealed), Terracotta (unsealed), Pavers (unsealed), Fibreglass, Toilet bowls and urinals, Mag wheels, Pebblecrete, Metal surfaces, Grout lines, Glass and Brickwork.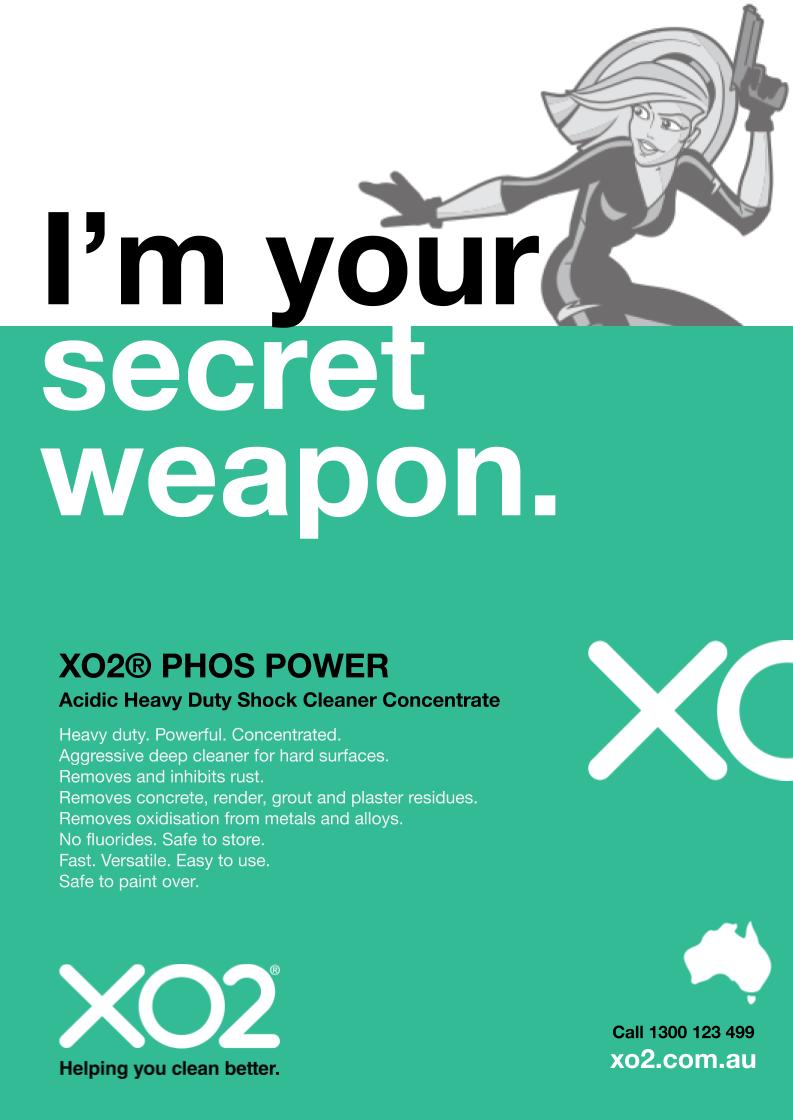 The benefits
• Heavy duty. Powerful. Concentrated.
• Aggressive deep cleaner for hard surfaces.
• Removes and inhibits rust.
• Removes concrete, render, grout and plaster residues.
• Removes oxidisation from metals and alloys.
• No fluorides. Safe to store.
• Fast. Versatile. Easy to use.
• Safe to paint over.
• No colour dyes added.
• Septic safe.
• Biodegradable.
• 100% cruelty free and never tested on animals.
• Australian made and owned.
Handy wall charts for easy to follow instructions and better safety.
Blog
How to quickly calculate cleaning chemical dilution rates and ratios.
Working out the dilution rate for cleaning chemical concentrates can be difficult at times. Especially if you're new to diluting chemicals with water. In this video, learn how to work out exactly how much concentrate you will need in your sized bottle, bucket or tank?
This is a preview of the recently viewed products by the user.
Once the user has seen at least one product this snippet will be visible.
Recently viewed Products