XO2® Protect - Food Grade No Rinse Sanitiser
Protect
Your kitchen's knight in shining armour.
XO2® Protect is a food grade sanitizer that kills nasty bacteria and germs wherever food is manufactured, prepared or served. It is based on Benzalkonium Chloride (Quat) which provides effective microbiocidal activity at recommended dilutions whilst imparting no taste or tainting of food. XO2® Protect is designed to protect your food areas including surfaces, cutlery, dishes and cooking utensils.
Protect has been microbiologically tested to EN 1276:2019, and proven to kill a broad range of bacteria with outstanding results. It well exceeded the Option C TGA Disinfectant Test. Here is the growing list of the specific pathogens it has been tested and proven to kill…
• Escherichia coli (E-Coli)
• Salmonella choleraesuis
• Staphylococcus aureus (Golden Staph)
• Pseudomonas aeruginosa
• Enterococcus hirae
Where to use.
XO2® Protect is a hygienic sanitiser designed for use wherever food is manufactured, prepared or served.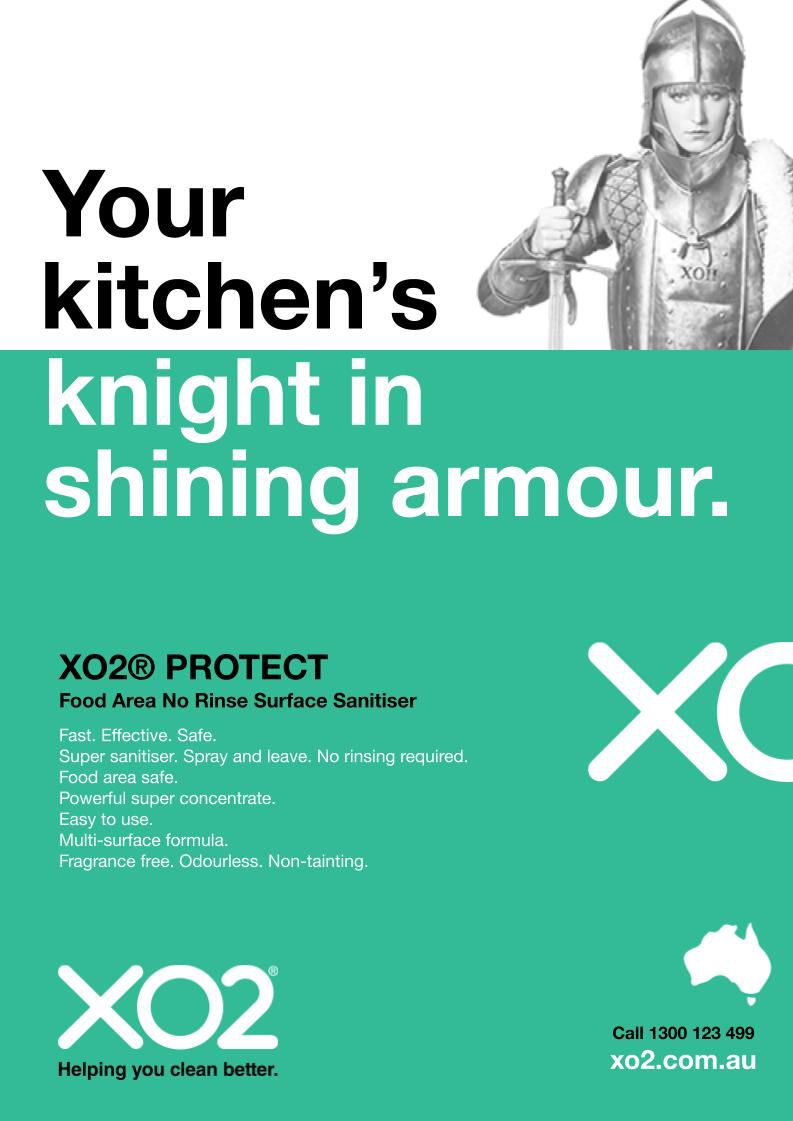 The benefits
• Fast. Effective. Safe.
• Super sanitiser. Spray and leave. No rinsing required.
• Food area safe. 
• Powerful super concentrate.
• Easy to use.
• Multi-surface formula.
• Fragrance free. Odourless. Non-tainting.
• Zero colours and dyes.
• Approved for use in food processing establishments (complies with AQIS requirements.)
• Shelf life: Unopened drum = 2 years. Diluted product = 1 month.
• Safe to use on water cleanable surfaces. 
• Precise dosage at recommended dilutions yields 200ppm Quaternary Ammonium Compound.
• Non-flammable. Non DG (Dangerous Goods.)
• Does not contain phenolics or chlorine.
• Eco-friendly. 100% biodegradable.
• Zero Carcinogens.
• 100% cruelty free and never tested on animals.
• Australian made and owned.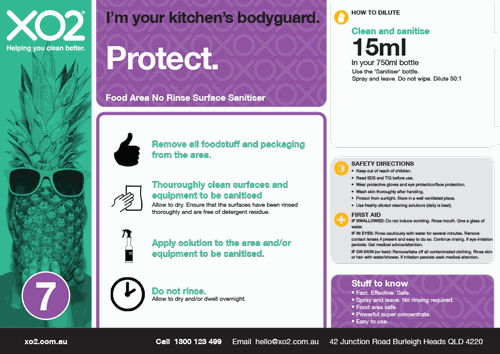 Handy wall charts for easy to follow instructions and better safety.
This is a preview of the recently viewed products by the user.
Once the user has seen at least one product this snippet will be visible.
Recently viewed Products