One of the best ways to reduce your facility's cleaning costs is to service sanitary hygiene bins yourself. What? Can you do that? Yes, you absolutely can. More facilities than ever are now doing exactly that and it's no more difficult than changing any other bin liner. Sanitary waste is suitable for general landfill in almost all parts of Australia and is not classified as clinical waste. If you don't believe me then google something like "sanitary hygiene waste qld government" to get confirmation of your state's guidelines.
Excellent return on investment
There is an initial investment in buying your own bins but most businesses get their money back within 3 to 9 months and start to significantly profit from then. Your payback time largely depends on 2 things... Firstly how many bins you have in service and secondly whether you decide to use a manual or touch free sanitary bin system.
Contracting this service to a specialist hygiene company is expensive and usually there are long contracts involved too. So if the service level is not up to standard, it can difficult for you to change and get things up to your standards again.
Doing this service yourself makes a lot of sense because you already have people servicing your washrooms every day. Utilising existing staff is smart and means labour costs won't change. Remember it's just a single bag replacement once a fortnight or once a month, so you won't have to employ anyone new. There's not much new to learn either because the same precautions you need to take for hygiene bins would most likely already be in place for your other rubbish disposal requirements.
Better guest experience
The other big advantage to servicing feminine hygiene bins in-house is that you can afford to service them more often. There is an enormous number of sanitary bins in busy facilities that should be serviced more often than they are. Perhaps they should be serviced every week or every fortnight but to keeping costs down they are serviced monthly in a lot of contracts. This is great for saving a little bit of coin but think of it from your guest's perspective. Apart from the potential for unpleasant odour issues which can be very uncomfortable, from a hygiene point of view, wouldn't you want to know that the bin that you are sitting in close proximity to or even using has been serviced less than a month ago, or less than a fortnight ago?
Here's a simple procedure you can implement in your facility for the servicing of sanitary napkin bins...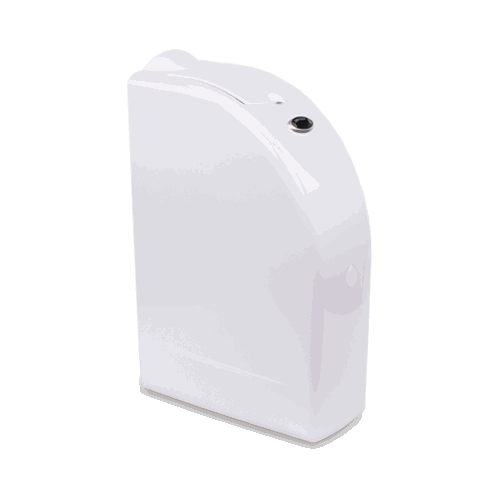 Sanitary bin servicing procedure
1. Ensure you are wearing gloves and PPE. Blood and bodily fluids may need to be cleaned up. Be careful of sharps.
2. Open the standard or touchfree sanitary hygiene bin door and pull out the liner bin.
3. Remove the liner bag, sealing it and placing it in a lined rubbish bin container or trolley waste receptacle. Always use caution when removing any bin liner. They can contain sharp objects including needles. Don't allow the bin liner to brush your skin or body. Don't try to compress the bin liners in the bin even if you have gloves on.
4. Wipe the bin with Sanitary Bin Wipes. Especially focus on the lid and other possible touch points.
5. Fit a new liner bag ensuring it completely covers the inside surface of the sanitary bin. Add the Sanifresh odour control granules or Deodoriser & Treatment Sachet contents into the liner.
6. Put the liner bin back into the hygiene bin. Close the door. Ensure the bin is ready for service and give a final wipe if necessary.
Servicing your own sanitary bins may be something you've never considered before. I've talked to facility managers, especially male ones, and they just don't want to think about feminine hygiene. That's why getting an outside contractor is the easiest option and the most common thing to do but that is all changing. Ask yourself, what's best for my facility, my budget and my guests?
We'd love to hear from you. Tell us what you think about servicing feminine hygiene bins yourself. If you're doing it already how's it going? Do you have any advice, tips or hints for those considering the move to servicing their own sanitary bins. We appreciate all the ideas and feedback so many people email to us. It makes the information we provide so much more relevant and helpful.
If you're looking for any sanitary hygiene bin system advice or help for your facility, give the XO2 team a call today on 1300 123 499, or visit XO2's sanitary hygiene bins and products online.
Have a great day!