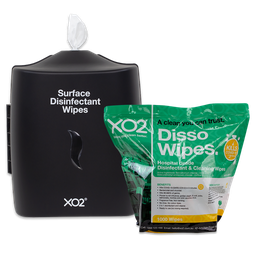 Disso® Surface Disinfectant Wipes Wall Mount Dispenser Starter Kit - Kills COVID-19, TGA Listed
$ 

110.00

$ 
110.00
$ 

100.00
Disso® Wipes Wall Mount Station Starter Kit
A clean you can trust.
This station holds a huge roll of 1000 Disso® wipes! XO2's Disso® Wipes Wall Mount Dispenser Starter Kit makes implementing a 5-star hygiene and disease prevention program simple, easy and cost effective.
This starter kit includes...
1 x Disso® Wipes Wall Mount Dispenser
1 x roll of 1000 Disso® Wipes refill
1 x 'How to disinfect surfaces' Wall Sign.
Disso® Wipes are a high performance, ready to use, hospital grade disinfectant cleaner. It is specially formulated to kill a wide range of bacteria and viruses making it your number one choice for critical area cleaning, disinfecting and infection control applications.
The formulation is the culmination of decades of research, development and experience with the mission of always improving and incorporating breakthrough technologies.
Disso® Wipes have been tested in some of Australia's best certified testing laboratories to prove it's effectiveness. The certificates show it works and it's TGA listed (AUSTL/ARTG 368170) as a hospital disinfectant that kills COVID-19. Disso® Wipes are listed on the Government TGA (Therapeutic Goods Administration) website as an approved disinfectant. It also successfully passed the EN13727 Dirty Conditions tests.
Disso® Wipes is microbiologically tested and proven to kill a broad range of viruses and bacteria. Here is the growing list of the specific pathogens it has been tested and proven to kill…
• Coronavirus (SARS-CoV-2, COVID-19.)
• Influenza virus type A
• Herpes Simplex virus
• Poliovirus (Polio)
• Staphylococcus aureus (Golden Staph)
• Pseudomonas aeruginosa
• Enterococcus hirae
• Escherichia coli (E-Coli)
• Salmonella choleraesuis
• Trichophyton mentagrophytes
Where to use.
Disso® Wipes can be used indoors and outdoors to disinfect and clean a multitude of different surfaces. Suitable on washable hard surfaces including plastic, metal, stainless steel, stone, ceramic, glass, enamel, laminate, timber, vinyl, painted surfaces, porcelain, epoxy/sealed surfaces. Suitable on washable carpets, upholstery and fabrics.
The benefits
The Wipe
• Kills COVID-19 (SARS-COV-2) in 3 minutes.
• TGA Listed Hospital Grade Disinfectant AUSTL/ARTG 368170
• 15x20cm disposable premium fabric.
• Perforated sheets. Easy dispensing.
• 2 Year Shelf Life (Not 3-6 months like some)
• Kills 99.999% Of Germs
• Kills Influenza, Golden Staph, E-Coli, Salmonella, Polio & More.
• Fragrance Free. Non-tainting.
• No Rinse. Food Area Safe.
• 2 in 1 Disinfectant and Cleaner.
• Ready To Use (No mixing required)
• Multi-Surface (Incl. washable hard surfaces & fabrics/carpets)
• Precision 'Critical Area' Disinfection.
• Fast 1-Step Disinfection.
• No colour dyes added.
• Also available in liquid. See 'Disso®'.
• Non-flammable. Non DG (Dangerous Goods.)
• Passes EN13727 Dirty Conditions Tests.
• Proven to kill a wide range of viruses and bacteria inc (COVID-19.)
• White cloths are the best to clean with. Nothing can hide on white, you can see everything!

• Powerful blend of high performance disinfectants.
• Does not contain phenolics or chlorine/bleach.
• Zero Carcinogens.
• Eco-friendly. 100% biodegradable.
• 100% cruelty free and never tested on animals.
• Australian made and owned.
The Dispenser
• Modern, classy and clean matte black finish to suit any decor.
• Quick and easy refill changeover.
• Made from heavy duty, impact resistant ABS plastic.
• Lockable.
• Comes with mounting screws, plugs and key.
• Dispenser footprint: 35cm high x 24cm wide x 23cmm deep.
• Silicone wipe dispensing outlet for ease of wipe dispensing.
• Large capacity. Fits 1000 disinfectant wipes in it!
Handy wall charts for easy to follow instructions and better safety.
This is a preview of the recently viewed products by the user.
Once the user has seen at least one product this snippet will be visible.
Recently viewed Products