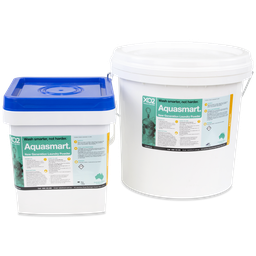 XO2® Aquasmart - New Generation Laundry Powder Concentrate With Pro-active Bacteria & Enzymes
Aquasmart
Wash smarter, not harder.
XO2® Aquasmart is a fantastic breakthrough in laundry chemistry. This new generation laundry powder super concentrate is designed to replace cumbersome, complicated, unreliable and high maintenance multi-product OPL liquid systems in commercial laundries. XO2® Aquasmart is formulated with biological actives comprised of pro-active bacteria and enzymes derived from bacteria. It contains a special selection of plant based detergents, grease cutters, enzymes and an army of probiotic species of live bacteria for the removal of general soils, tough stains, odours and pathogens.
XO2® Aquasmart is specially formulated to provide excellent results in all water conditions, and is suitable for both hot and cold washes in commercial and domestic top or front load machines. It also contains water softeners to allow it to work better and faster in hard and soft water. The built in optical brighteners ensure maximum whiteness retention and brightness, and it also has built in fabric softener and a delightful fragrance.
XO2® Aquasmart will significantly reduce your overall laundry costs by cutting labour, water, electricity, safety and compliance costs.
Where to use.
XO2® Aquasmart can be used in commercial or domestic, top and front loading washing machines, in either hot or cold water washes. Suitable on clothing, bedding, towels, table cloths and more.
Places
• Hotels, Casinos, Resorts, Apartments, Motels, Holiday Parks.
• Schools, Universities, Colleges, Child Care Centres.
• Workplaces, Warehouses, Manufacturing Plants.
• Hospitals, Aged Care Centres, Medical Clinics.
• Function Centres, Restaurants, Cafes, Pubs.
Spaces
• Laundries (Commercial or Domestic)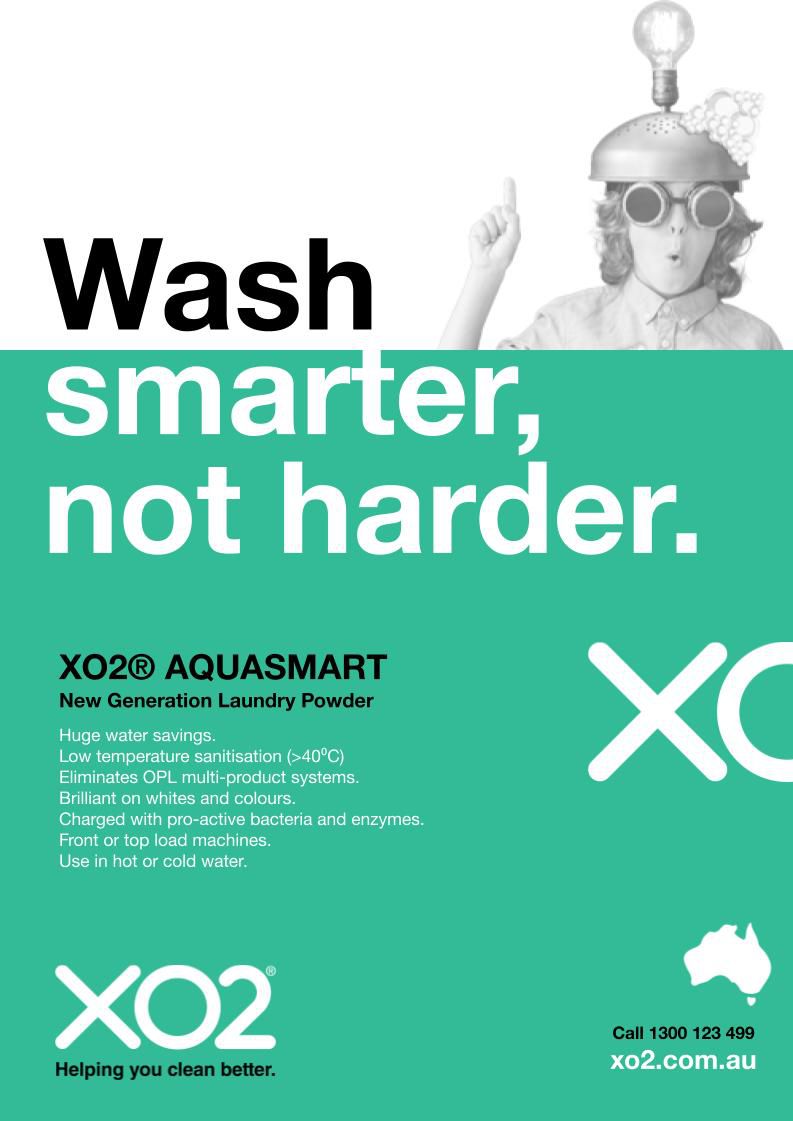 The benefits
• Huge water savings.
• Low temperature sanitisation (>40⁰C)
• Eliminates OPL multi-product systems.
• Brilliant on whites and colours.
• Charged with pro-active bacteria and enzymes.
• Front or top load machines.
• Use in hot or cold water.
• Septic safe. Safe for the garden. Suitable in conventional septics, wastewater treatment plants and greywater systems.
• Reduces chemical, energy and labour costs.
• Fast and powerful, soil and stain removal.
• Eliminates odours.
• Whitens. Brightens. Sanitises.
• Low foaming.
• Unique blend of 'green' surfactants, scale inhibitors, fragrance oils, enzymes and live bacteria endospores.
• Keeps working within the washing machine to maintain hygiene long after the cycle finishes.
• Phosphate free. Non-DG. No corrosives. Low VOC <1%.
• Eco-friendly. 100% readily biodegradable.
• Australian made and owned.
• 100% cruelty free and never tested on animals.
Handy wall charts for easy to follow instructions and better safety.
This is a preview of the recently viewed products by the user.
Once the user has seen at least one product this snippet will be visible.
Recently viewed Products