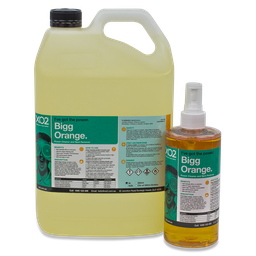 XO2® Bigg Orange - Powerful Citrus Cleaner & Spot Remover
Bigg Orange
I've got the power.
XO2® Bigg Orange is strongest in class! It contains a high performance blend of citrus solvents and emulsifiers to give an environmentally responsible, fast cleaning problem solver. XO2® Bigg Orange is biodegradable and designed to remove heavy grease, oil, gum, paint, ink, glue, tape, stickers, bitumen and refinery tars and does not affect reactive metals and alloys. It is easy to use and leaves the area where it's used smelling clean and fresh like juicy oranges.
Where to use.
XO2® Bigg Orange can be used in multiple applications including:
• Carpet stain remover
• Adhesive, tape, sticker, chewing gum and paint removal
• Concrete cleaning (Great on rubber tyre marks too!)
• General purpose industrial cleaning and deodorising   
• Automotive and machinery degreaser (Awesome on oil & grease!!)
• Stone and tile cleaning (Even works on tile glues!!)     
• Graffiti removal                             
• Drain and grease trap cleaner and deodoriser               
• Laundry pre-wash                                       
• Aluminium and stainless steel cleaning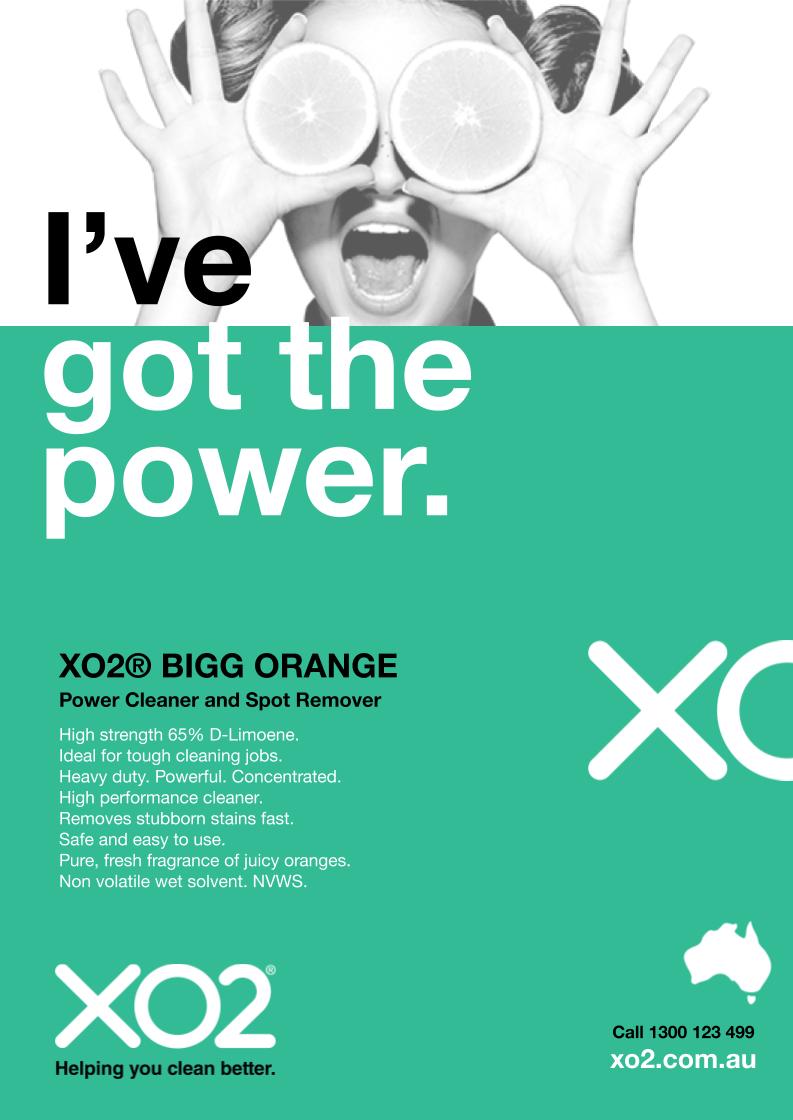 The benefits
• High strength 65% D-Limonene.
• Ideal for tough cleaning jobs.
• Heavy duty. Powerful. Concentrated.
• High performance cleaner.
• Removes stubborn stains fast. Including glues, stickers, paint, gum, ink and grease marks.
• Safe and easy to use.
• Pure, fresh fragrance of juicy oranges.  
• For domestic, commercial and industrial use.
• Aggressive industrial cleaner for floors and hard surfaces.
• Specialty emulsifiers clean soil away faster.
• Very low toxicity. Non-carcinogenic.
• Natural cleaner. Powerful deodoriser.
• Non petroleum solvent cleaner.
• Eco friendly. 100% biodegradable and a natural renewable resource.
• Non volatile wet solvent. NVWS.
• 100% cruelty free and never tested on animals.
• Septic Safe.
• Australian made and owned.
Handy wall charts for easy to follow instructions and better safety.
Blog
How to quickly calculate cleaning chemical dilution rates and ratios.
Working out the dilution rate for cleaning chemical concentrates can be difficult at times. Especially if you're new to diluting chemicals with water. In this video, learn how to work out exactly how much concentrate you will need in your sized bottle, bucket or tank?
This is a preview of the recently viewed products by the user.
Once the user has seen at least one product this snippet will be visible.
Recently viewed Products