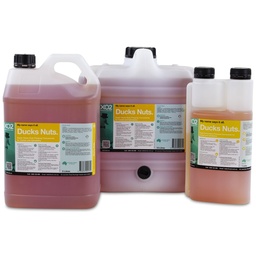 XO2® Ducks Nuts - High Performance Prespray Concentrate for Carpet and Upholstery
Ducks Nuts
My name says it all.
XO2® Ducks Nuts is everything you have ever wanted in a carpet cleaning prespray. You want absolute confidence when you walk into a job that you are going to nail it and leave you customers saying WOW!
XO2® Ducks Nuts was created without any consideration for price. The technology used was selected based on being the best, not the cheapest. The cool part is that the product performs so well that you end up cleaning carpets and upholstery better than ever, for cheaper than ever. This is because it works first time every time which reduces the biggest cost in cleaning... you.
This super heavy duty prespray concentrate is designed for professionals with portable and truckmount machines. It works great in cold water but even better with hot. Its innovative emulsifiers with buffered pH contains a combination of high performance fibre safe soil release agents and solvents that leave behind a fresh and sweet spice fragrance. The built in soil suspension feature uses special polymer technology to suspend dirt and soil for easy rinsing. Its smart chemistry also breaks down and suspends clay and mineral soils which is great for jobs where red soils are present.
XO2® Ducks Nuts is suitable on virtually all fibres when used correctly and it meets the specifications for 5th generation stain resistant carpet. It's also safe for you, pets and the environment. It has a super low VOC profile which means no nasty vapours. It achieves low toxicity and has outstanding OH&S ratings.
To top it off, we've added the perfect fragrance balance of our famous spice essentials. Your customers will love it!
Where to use.
XO2® Ducks Nuts is your one stop shop for prespray. It can do the toughest jobs out there which means it makes even lighter work of the easy ones. It is ideal for use in restaurants, pubs, clubs, offices, hotels and homes.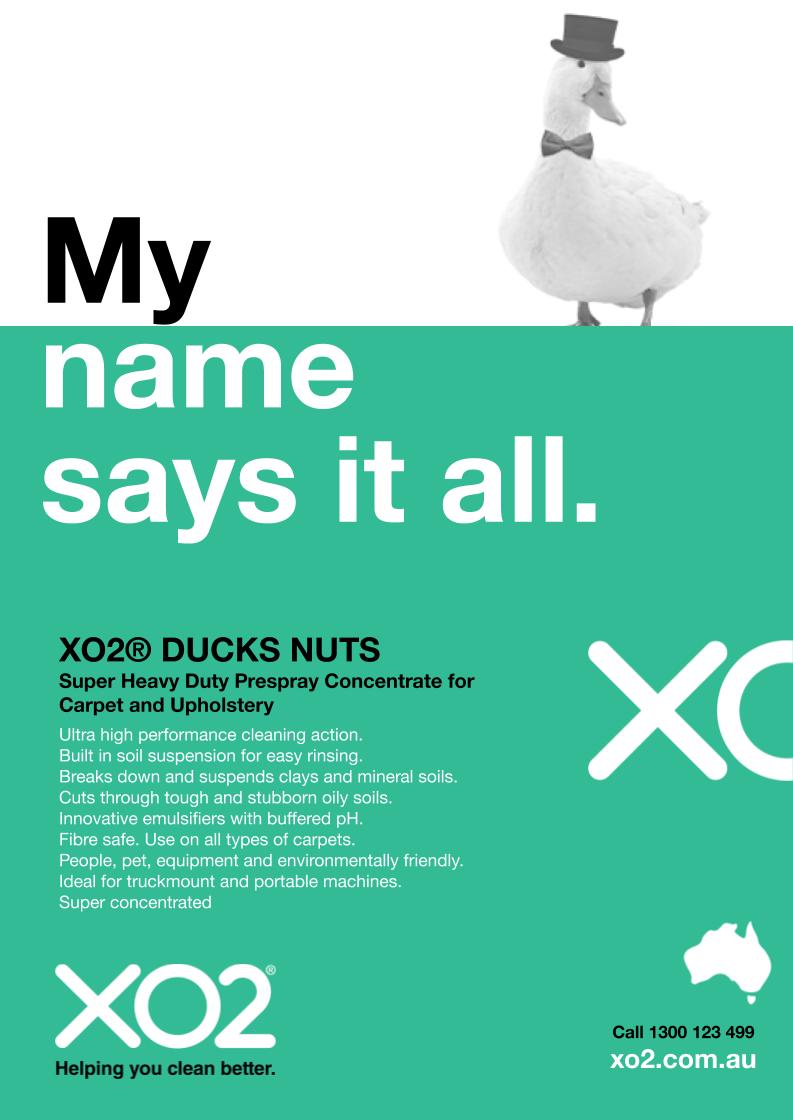 The benefits
• Ultra high performance cleaning action with buffered pH.
• Super economical concentrate.
• Long lasting spice fragrance.
• Low foaming and fast drying.
• Built in soil suspension for easy rinsing.
• Breaks down and suspends clays and mineral soils.
• Cuts through tough and stubborn oily soils.
• Fibre safe. Use on all types of carpets.
• People, pet, equipment and environmentally friendly.
• 100% cruelty free and never tested on animals.
• Septic safe. Eco-friendly. 100% biodegradable.
• Zero Carcinogens.
• Australian made and owned.
Handy wall charts for easy to follow instructions and better safety.
Blog
How to quickly calculate cleaning chemical dilution rates and ratios.
Working out the dilution rate for cleaning chemical concentrates can be difficult at times. Especially if you're new to diluting chemicals with water. In this video, learn how to work out exactly how much concentrate you will need in your sized bottle, bucket or tank?
This is a preview of the recently viewed products by the user.
Once the user has seen at least one product this snippet will be visible.
Recently viewed Products