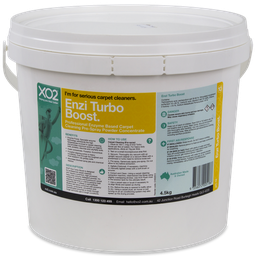 XO2® Enzi Turbo Boost - Heavy Duty Enzyme Carpet Pre-Spray & Tile Cleaning Detergent
Enzi Turbo Boost
I'm for serious carpet cleaners.
XO2® Enzi Turbo Boost is designed for professional carpet cleaners who require a premium, high powered, heavy duty enzyme detergent powder. It's suitable for portable and truckmount carpet cleaning machines in cold to extreme heat temperatures.
It's innovative and powerful enzyme cleaning action tackles tough organic and greasy soiling with ease. Using the latest international chemical technology, XO2® Enzi Turbo Boost utilises an exclusive and well buffered alkaline salt blend combined with powerful solvents, surfactants, emulsifiers and sophisticated enzymes to break through tough soil build-ups in tough conditions.
Choose XO2® Enzi Turbo Boost when you want to quickly and easily cut through the toughest soils and greases even in the heaviest of traffic lanes and on the most difficult to clean synthetic carpets. If you've never tried XO2® Enzi Turbo Boost, do yourself a favour and give it a go. Be prepared to be amazed at this chemical breakthrough that has redefined what a premium enzyme carpet pre-spray is.
Where to use.
XO2® Enzi Turbo Boost is ideal for use where heavy grime  constantly presents itself such as restaurant, pub and club cleaning. It is also the ultimate choice for cleaning high traffic passageways in shopping centres, hospitals, schools, government buildings, offices in industrial buildings and rentals. XO2® Enzi Turbo Boost pre-spray has a high pH and should not be used on upholstery, natural fibres, wool, cotton, silk or stain resistant (5th generation) carpeting.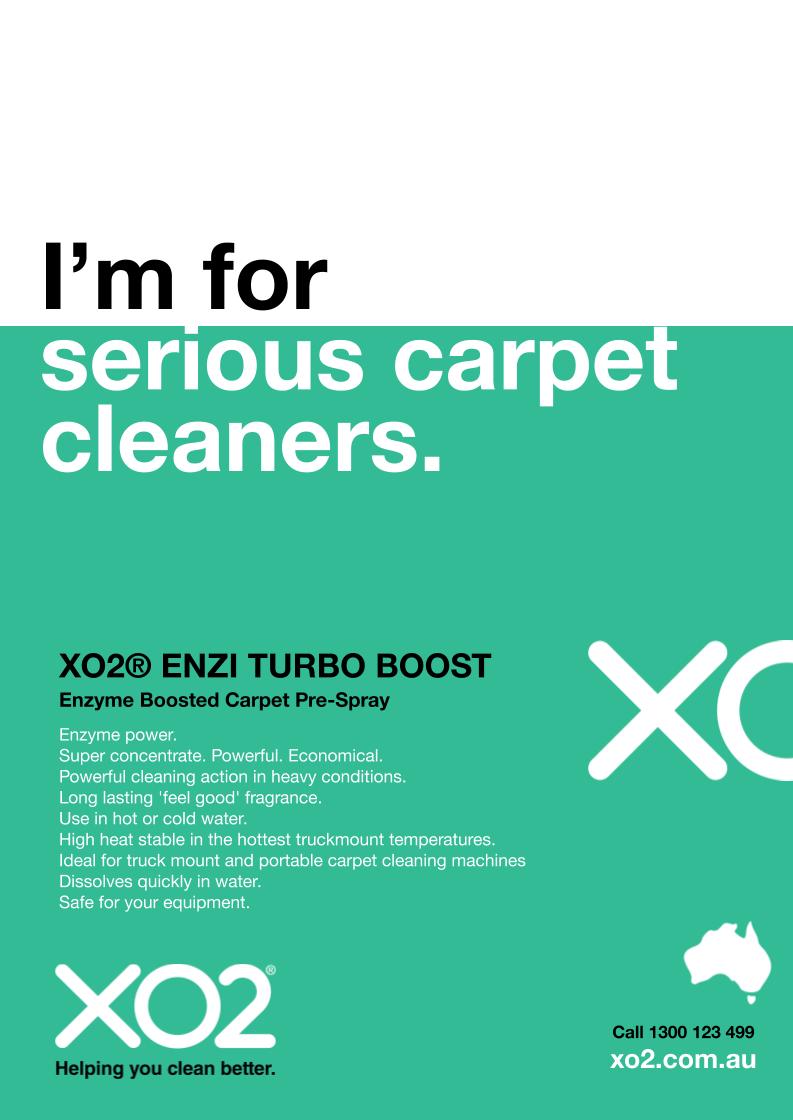 The benefits
• Enzyme Power. Specialist enzyme technology withstands the high temperatures involved in carpet cleaning and provides maximum action on organic soils, proteins, starches and oily/fatty soils. 
• Super concentrate. Powerful. Economical.
• Powerful cleaning action in heavy conditions. Cuts through the toughest and most stubborn oily greasy soils.
• Long lasting 'feel good' fragrance.
• Use in hot or cold water. 
• High heat stable in the hottest truckmount temperatures.
• Ideal for truck mount and portable carpet cleaning machines
• Dissolves quickly in water.
• Safe for your equipment. Minimises blocked spray jets and chemical residue.
• Safe and easy to use. Use in a pump up pressure sprayer or through an inline spraying system.
• Powerful alkalinity.
• Low VOC profile which means no unwanted, unpleasant vapours.  
• Australian made and owned.
Handy wall charts for easy to follow instructions and better safety.
Blog
How to quickly calculate cleaning chemical dilution rates and ratios.
Working out the dilution rate for cleaning chemical concentrates can be difficult at times. Especially if you're new to diluting chemicals with water. In this video, learn how to work out exactly how much concentrate you will need in your sized bottle, bucket or tank?
This is a preview of the recently viewed products by the user.
Once the user has seen at least one product this snippet will be visible.
Recently viewed Products