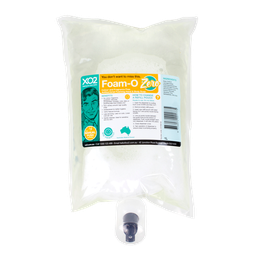 XO2® 'Foam-O Zero' Foaming Hand, Hair & Body Wash Refill - Natural, Antibacterial & Fragrance-Free
Foam-O Zero
You don't, want to miss this.
XO2® Foam-O Zero exists for all those people who want a soap that's actually good for their skin! Maybe you or your people have dry or sensitive skin, dermatitis, eczema, psoriasis or an allergy? With so many cheap, nasty and straight out dangerous skincare products on the market, especially commercially, we decided to step up and do something about it!
XO2® Foam-O Zero has ZERO fragrance (the most irritating and desensitising material in soaps), ZERO colour/dye, ZERO carcinogens (or suspected ones), ZERO hazardous chemicals!
The antibacterial action assists you in stopping the spread of infection and germs in your facility. The built in natural (Certified organic)  aloe vera combined with natural Glycerine moisturises, conditions, soothes, nourishes and hydrates your hands, body and hair.
The high volume and rich velvety foaming action means happy users and less soap usage. That saves you time and money!
The formula has lightning fast rinsing qualities, it saves lots of water! It's also eco-friendly, biodegradable and septic safe.
The benefits
• Zero fragrance, colour, SLES, paraben, silicone, phosphate, propylene glycol, lanolin, triclosan, nuts, dairy or anything else that irritates you.
• Suitable for use with conditions such as sensitive skin, dermatitis, eczema and psoriasis.
• 100% Natural formula.
• Kid friendly.
• Antibacterial for better hygiene.
• Certified Organic Aloe Vera infused. Refreshing, soothing and invigorating.
• Helps to maintain your skin's natural protective properties.
• Gentle cleanser. Ideal for sensitive and dry skin.
• Doesn't strip away the natural oils on the skin.
• Pump is replaced every refill. Eliminates drips and pump issues.
• High capacity refill that controls usage.
• Each refill gives you 2500 uses. That's huge!
• Generous (0.4ml) amount of soap dispensed per shot.
• Less servicing. Less run outs. Lower cost per use.
• Loves the skin. Soothing with natural moisturiser.
• High volume, rich velvety foaming action = less soap usage.
• Less water usage. Lightning fast rinsing from the skin. 
• Less residues. Makes surface cleaning super easy. 
• Reduced landfill. Recyclable vacuum refill bag design.
• Great for hair and all over body washing too.
• Hygienically sealed refill. Minimises the risk of contamination.
• pH balanced.
• 100% cruelty free and never tested on animals. Vegan friendly.
• Eco-friendly. Biodegradable. Septic safe.
• Perfectly fits the XO2® Manual Push Foaming Dispenser.
• Made in Australia by XO2®.
• Ingredients: Aqua, Sodium Laurylglucosides, Hydroxypropylsulfonate, Caprylyl/Capryl Glucoside, Gluconolactone (and) Sodium Benzoate, Glycerine, Aloe Barbadensis, Citric Acid.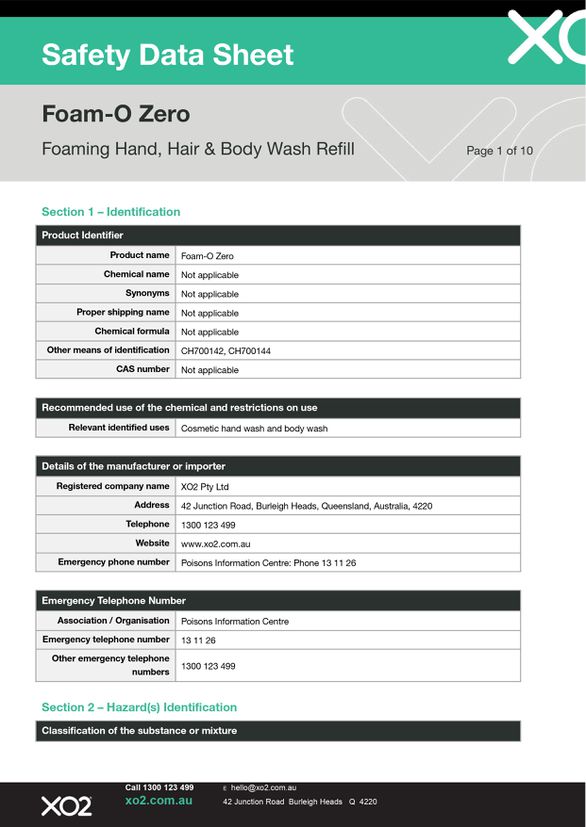 Handy wall charts for easy to follow instructions and better safety.
Blog
Hand Hygiene Saves Lives. The Training Guide.
Hand washing is considered to be the most important single measure in preventing the spread of disease. This guide explains how to wash and sanitise your hands in a way that protects you from disease and viruses. It also covers why hand hygiene is so important and how to encourage better hand hygiene practices in your workplace.
This is a preview of the recently viewed products by the user.
Once the user has seen at least one product this snippet will be visible.
Recently viewed Products