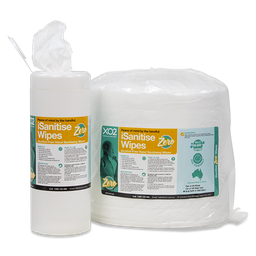 XO2® iSanitise Zero Wipes - Alcohol-Free Hand Sanitiser & Cleaner Wipes
iSanitise Zero Wipes
Peace of mind by the handful.
XO2® iSanitise Zero Wipes are an alcohol free 2 in 1 hand sanitiser and cleaner designed specifically to control the spread of germs and bacteria. It contains natural emollients to replenish the lipids in your skin, leaving your hands feeling soft and hygienically clean.
The non-hazardous formulation is also free of Triclosan, colour, fragrance and carcinogens!  iSanitise Zero is pH balanced with a non-irritant moisturising formula and great for keeping your skin clean, hygienic and at its best. The advanced formulation is great for high usage and for those with sensitive and dry skin.
iSanitise Zero has been microbiologically tested and has a super high and proven kill rate on a broad range of bacteria. Here is the growing list of specific pathogens it has been tested and proven to kill... Staphylococcus aureus (Golden Staph), Pseudomonas aeruginosa, Enterococcus hirae, Escherichia coli (E-Coli), Salmonella choleraesuis, Trichophyton mentagrophytes.
iSanitise Zero has also been dermatologically tested so you can be confident with people that have sensitive skin.
Where to use.
XO2® iSanitise Zero Wipes are available in a handy and portable 100 wipe tub or in our humongous 1000 wipe roll that fits into our matching wall-mounted dispenser or mobile bin stand.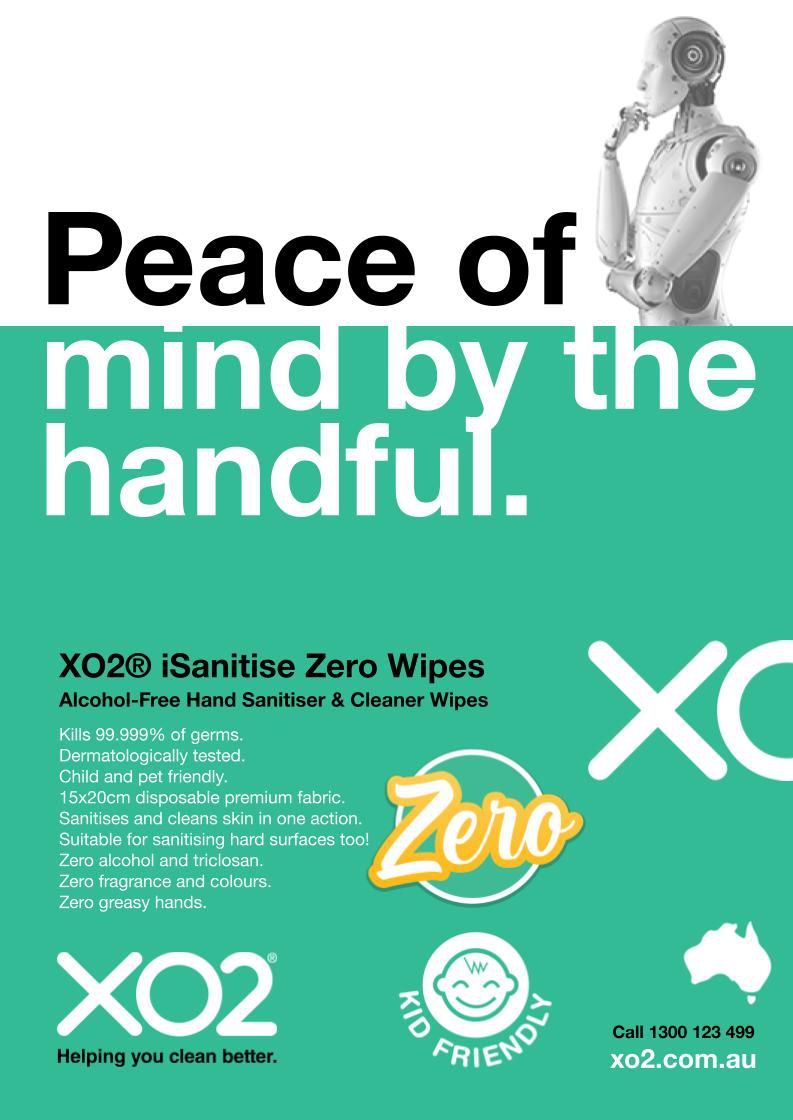 The benefits
• Kills 99.999% of germs.
• Dermatologically tested.
• Child and pet friendly.
• 15x20cm disposable premium fabric.
• Perforated sheets. Easy dispensing.
• Zero alcohol and triclosan.
• Zero fragrance and colours.
• Zero greasy hands.
• Moisturises and conditions skin.
• Non hazardous, fast drying, food safe.
• Zero carcinogens.
• Eco-friendly. Biodegradable.
• 100% cruelty free and never tested on animals.
• Australian made and owned.
• Ingredients: Aqua, Glycerine, disodium EDTA, Benzalkonium chloride, Cetrinomium chloride, Lauramine oxide, Cocamidopropyl betaine, Citric acid.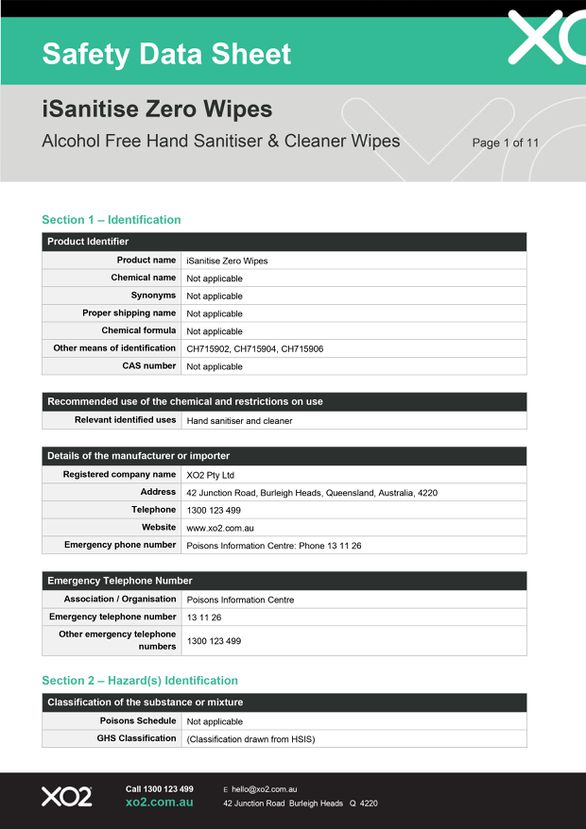 Handy wall charts for easy to follow instructions and better safety.
Blog
Hand Hygiene Saves Lives. The Training Guide.
Hand washing is considered to be the most important single measure in preventing the spread of disease. This guide explains how to wash and sanitise your hands in a way that protects you from disease and viruses. It also covers why hand hygiene is so important and how to encourage better hand hygiene practices in your workplace.
This is a preview of the recently viewed products by the user.
Once the user has seen at least one product this snippet will be visible.
Recently viewed Products