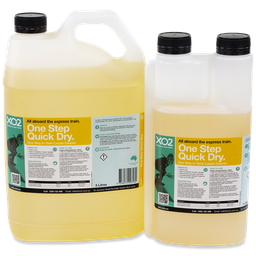 XO2® One Step Quick Dry - In Tank Carpet Cleaner
One Step Quick Dry
All aboard the express train.
"One-Step Quick Dry is the fastest, safest, easiest and most effective way to professionally clean carpets."
XO2® One-Step Quick Dry has changed the professional carpet cleaning industry forever. This breakthrough product is the ultimate all-in-one, wool and fibre friendly, fast drying, super concentrated cleaning liquid. It goes straight into the clean water solution tank of portable carpet extractor machines and can be used through high temperature truckmount chemical injection systems. That's right... with XO2® One-Step Quick Dry there's no more pre-spraying!
XO2® One-Step Quick Dry has a well buffered pH and far exceeds all wool safety testing criteria currently used in the industry both in Australia and internationally. It's our most popular super concentrated carpet cleaning product because its simple, fast, safe and easy to use. 
XO2® One-Step Quick Dry can be used 3 ways...
1. In Tank One Step Cleaner. For carpet or upholstery.
2. Pre-Spray. As a pre-spray treatment prior to water extraction / steam cleaning.
3. Spotter. As a general purpose spotter. Use it yourself or dilute and sell to your customers.
Where to use.
XO2® One-Step Quick Dry gives you fantastic results even on heavily soiled and greasy areas. It is safe for use on all types of carpets in virtually all domestic, commercial, institutional and industrial applications including restaurants, pubs, clubs, offices, hotels and homes. With so many fantastic safety features XO2® One-Step Quick Dry is also ideal for sensitive areas such as hospitals, childcare centres, nursing homes and homes with asthma sufferers.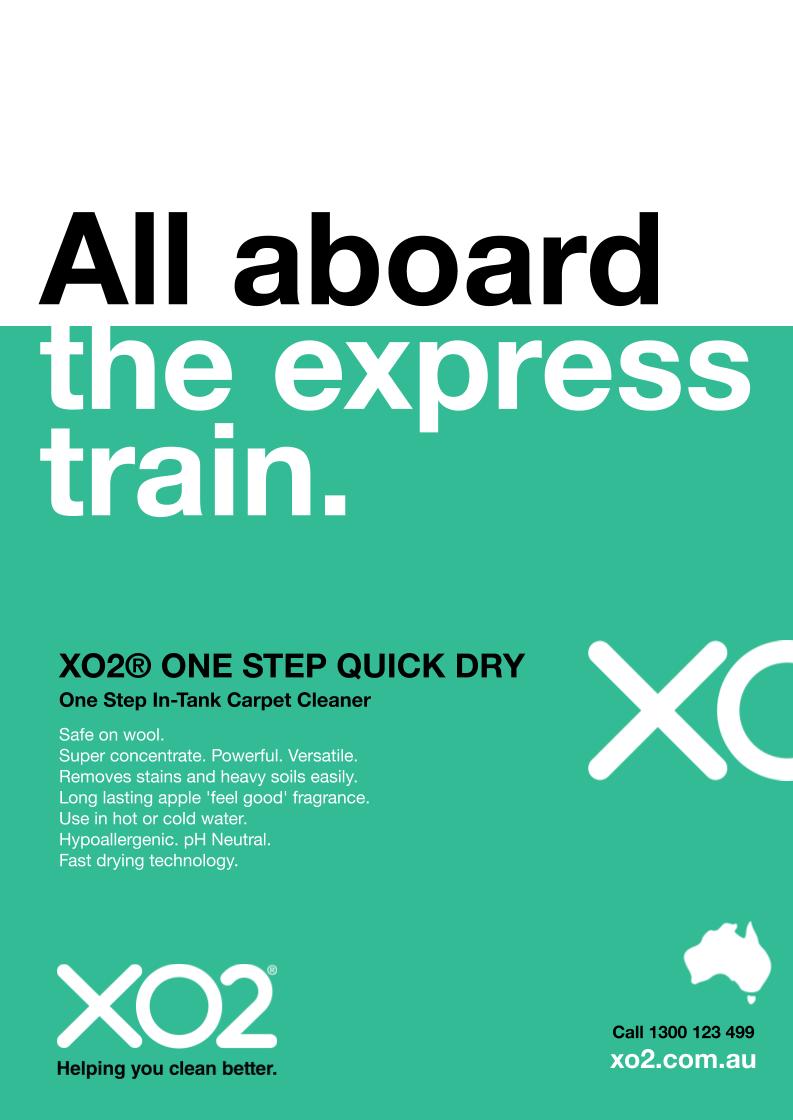 The benefits
• Never pre-spray again.
• Super concentrate. Fast. Powerful.
• Time saving one-step procedure. Reduces labour costs and your time to clean by up to 30%.
• Simple and safe for staff. Outstanding WHS rating and safety features.
• Fast drying technology. 30 minute dry time is great for back to backs (when used with the correct equipment and technique). Perfect for use in wet weather and humid climates.
• Wool approved and fibre safe. Use on virtually all types of carpet fibres. Meets the specifications for use on 5th generation stain resistant carpets.
• Use in hot or cold water. Works in cold water and stays in solution in even the hottest of hot truckmounts helping to eliminate residual deposits and clogged spray jets.
• Removes stains and heavy soils easily. Quickly emulsifies and cuts through tracked in dirt, grime and oils with a unique blend of safe solvents, detergents and water softeners.
• Carpets stay cleaner for longer. Self neutralising and slow re-soiling.
• Long lasting apple 'feel good' fragrance. Statistically has the highest customer satisfaction than any other fragrance. Leaves carpets smelling clean and fresh long after the clean.
• Low foaming. Inbuilt de-foamer.
• Very versatile. One solution for heavy or lightly soiled carpets and great for spotting and upholstery too. Can be used in a 1-Step (Express) or 2-Step (Pre-spray) carpet cleaning process.
• Safe on equipment. Corrosion inhibitors protect your machines components.
• Safe and easy to use.
• Ultra low VOC. No unwanted and unpleasant vapours.
• Biodegradable and environmentally friendly.
• Australian made and owned.
Handy wall charts for easy to follow instructions and better safety.
Blog
How to quickly calculate cleaning chemical dilution rates and ratios.
Working out the dilution rate for cleaning chemical concentrates can be difficult at times. Especially if you're new to diluting chemicals with water. In this video, learn how to work out exactly how much concentrate you will need in your sized bottle, bucket or tank?
This is a preview of the recently viewed products by the user.
Once the user has seen at least one product this snippet will be visible.
Recently viewed Products