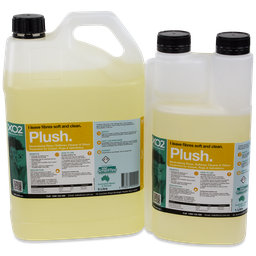 XO2® Plush - Neutralising Rinse, Softener, Cleaner & Odour Treatment for Carpet, Rugs & Upholstery
Plush
I leave fibres soft and clean.
Plush improves your carpet and upholstery cleaning results out of sight by safely neutralising alkaline (sticky) chemical residues and boosting your cleaning power. In a nutshell, your carpets will look better, feel softer, dry faster, be safer and stay cleaner for longer. What makes Plush unique is its high tech rinsing formula combined with a powerful cleaning action. Plush is wool friendly and ideal for use on heavily soiled wool carpets where alkaline detergents are not recommended. Plush also stabilises colours and contains anti-resoiling technology. To top things off, it contains XO2's breakthrough odour control treatment… SmellTec. If you are wanting to give your customers the 5 star treatment, use Plush.
Where to use.
Plush is used in the clean water solution tank of portable carpet extraction machines and through truck mounted carpet cleaning equipment. It is safe to use on synthetic and natural fibres (including wool and 5th generation nylon). It is ideal for use on carpets, upholstery, rugs and delicate fibres.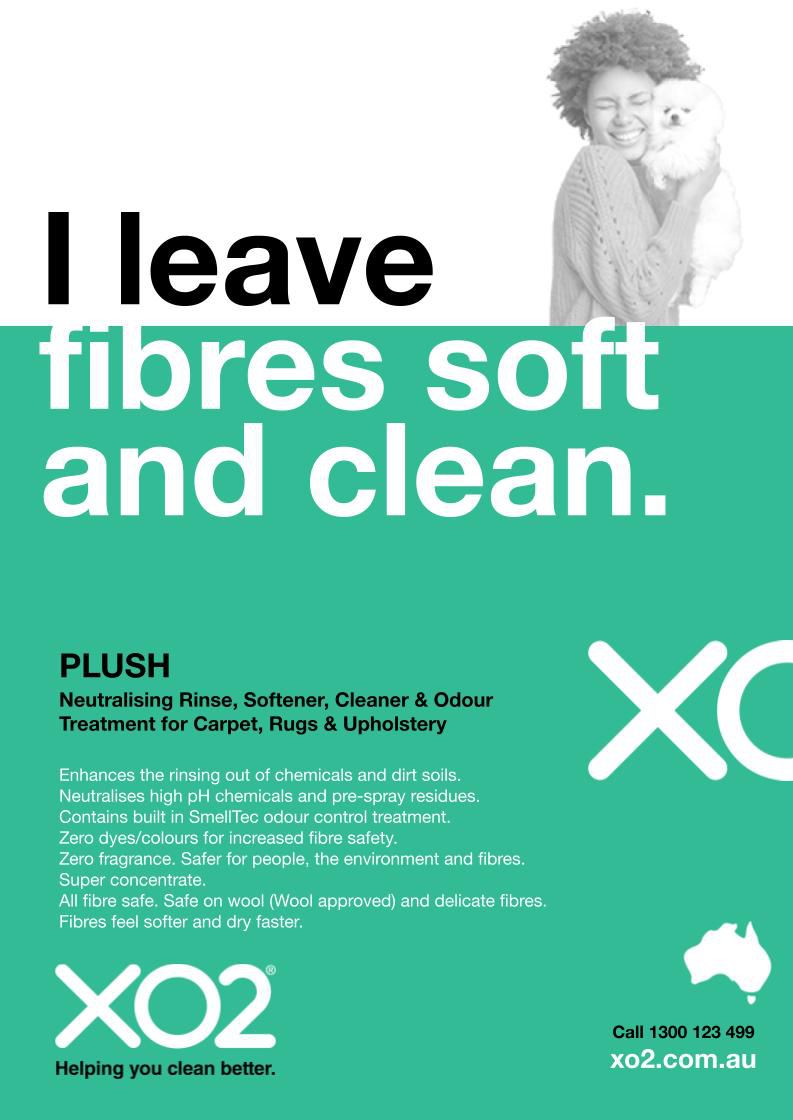 The benefits
• Enhances the rinsing out of chemicals and dirt soils.
• Neutralises high pH chemicals and pre-spray residues.
• Contains built in SmellTec odour control treatment.
• Zero dyes/colours for increased fibre safety.
• Zero fragrance. Safer for people, the environment and fibres.
• Super concentrate.
• All fibre safe. Safe on wool (Wool approved), synthetic, natural and delicate fibres.
• Fibres feel softer and dry faster.
• Built in anti-soiling technology.
• Ideal for carpets, upholstery, rugs and delicate fibres.
• Neutralises urine deposits.
• Boosts cleaning performance.
• Helps stop browning.
• Use in hot or cold water.
• Safe and easy to use.
• Low foaming. Built in defoamer.
• Fibres stay cleaner for longer.
• Protects fibres and stabilises dyes and colours.
• Outstanding results and customer comments.
• Peace of mind. Improves carpet health and hygiene.
• Septic safe.
• Eco-friendly. 100% biodegradable.
• Zero Carcinogens.
• 100% cruelty free and never tested on animals.
• Australian Made & Owned.
Handy wall charts for easy to follow instructions and better safety.
Blog
How to quickly calculate cleaning chemical dilution rates and ratios.
Working out the dilution rate for cleaning chemical concentrates can be difficult at times. Especially if you're new to diluting chemicals with water. In this video, learn how to work out exactly how much concentrate you will need in your sized bottle, bucket or tank?
This is a preview of the recently viewed products by the user.
Once the user has seen at least one product this snippet will be visible.
Recently viewed Products