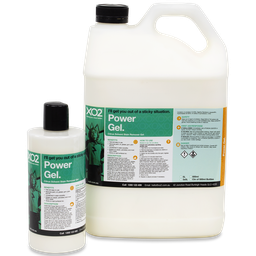 XO2® Power Gel - Citrus Solvent Stain Remover Gel
Power Gel
I'll get you out of a sticky situation.
XO2® Power Gel is a high performance, multi-purpose spotter that uses powerful orange extracts to remove paint, oil, grease, gum, wax, adhesive, glue, ink and tar. The thickened gel prevents product loss by absorption into the fibres, meaning you use less product for a better result without doing damage to backing, underlay and glue. That's why this gel will save you time and money. XO2® Power Gel is environmentally friendly, safe to use, easy to rinse and it works fast. 
Where to use.
XO2® Power Gel is an ideal carpet and upholstery spotter for use on almost all fabric and fibre types. It's also great in the laundry, fantastic on graffiti and can be used on many hard surfaces. XO2® Power Gel is safe on almost every washable / wettable fabric. Do not use on plastic, acrylic or other solvent sensitive surfaces.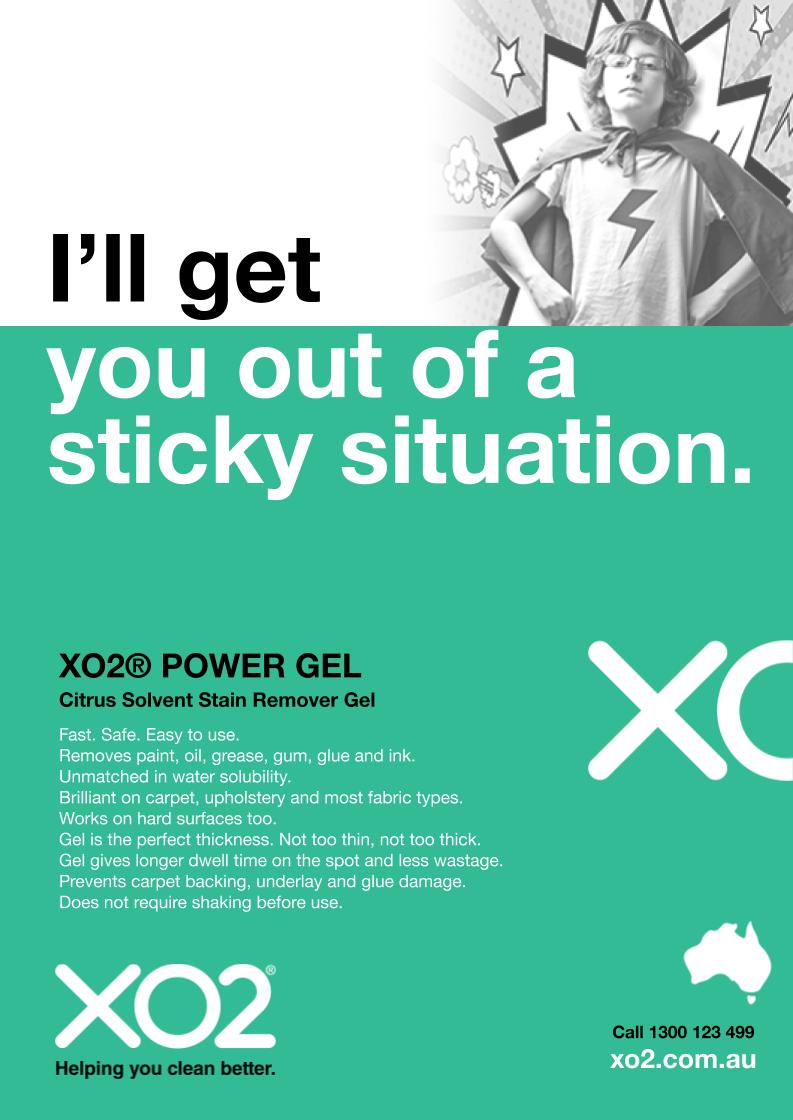 The benefits
• Fast. Safe. Easy to use.
• Removes paint, oil, grease, gum, wax, adhesive, glue, ink and tar.
• Unmatched in water solubility. Stains are quickly and easily removed with water.
• Brilliant on carpet, upholstery and most fabric types. 
• Works on hard surfaces too.
• Gel is the perfect thickness. Not too thin, not too thick.
• Gel gives longer dwell time on the spot and less wastage.
• Prevents carpet backing, underlay and glue damage.
• Does not require shaking before use. No product separation. Consistent in texture. Less mess and wastage with better results. 
• Opaque in colour. Not yellow or orange like most citrus gels which can leave a yellow/orange stain on some light coloured fibres.
• Fast removal of a wide range of stains with one product.
• Better results using less product.
• Fresh subtle citrus fragrance.
• Non-toxic. Eco-friendly. Biodegradable.
• Saves time and money.
• Ready to use. No mixing required.
• Non volatile wet solvent. NVWS.
• Australian made and owned.
Handy wall charts for easy to follow instructions and better safety.
This is a preview of the recently viewed products by the user.
Once the user has seen at least one product this snippet will be visible.
Recently viewed Products