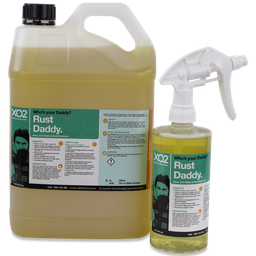 XO2® Rust Daddy - Bore, Iron Stain & Rust Remover
Rust Daddy
Who's your Daddy?
So go on and pinch yourself after using this absolute breakthrough product because it is dead set incredible! Out on the field, this product is A.K.A. magic spray!
XO2® Rust Daddy is the easy, effective and safe way to remove rust, bore and iron stains from washable hard surfaces. 
The innovative pH neutral formula delivers amazing results and unmatched user safety advantages. Unlike many rust removers, XO2® Rust Daddy does not contain the potentially lethal Hydrofluoric Acid or any other hazardous chemicals. It complies with recent changes to Australian regulations regarding fluorine and fluoride content in cleaning chemicals. This reduces the potential danger and injuries many cleaning teams have experienced using traditional dangerous competitor rust removers.
Where to use.
XO2® Rust Daddy eliminates rust, bore and iron based stains on all hard washable surfaces. XO2® Rust Daddy will be your best friend as it even removes those old, stubborn and impossible stains. 
XO2® Rust Daddy being pH neutral means it is safe to use on all washable hard surfaces from walls to floors to ceilings and anything else in between! It is fine on marble, limestone, travertine, terrazzo, granite, basalt, bluestone, sandstone, quarry tile, slate, porcelain, ceramic, terracotta, concrete, pebblecrete, masonry, vinyl, timber, painted surfaces, stainless steel, natural stone and metal surfaces too!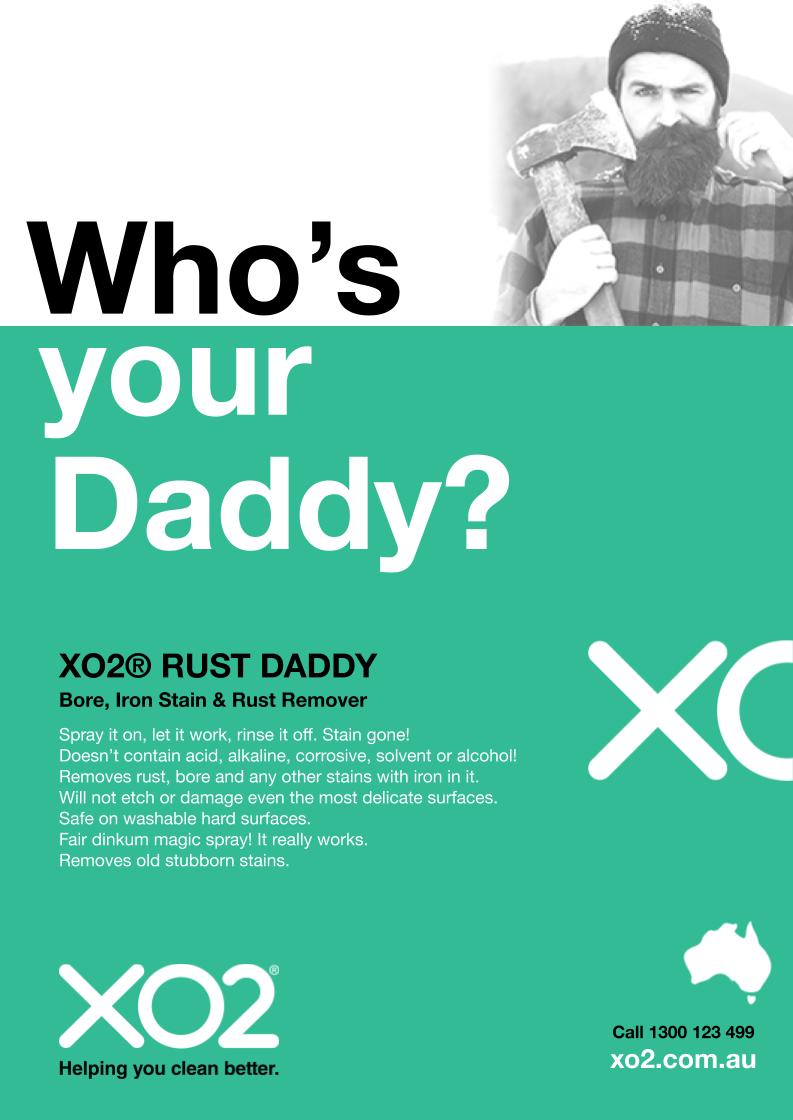 The benefits
• Spray it on, let it work, rinse it off. Stain gone!
• Doesn't contain acid, alkaline, corrosive, solvent or alcohol!
• Removes rust, bore and any other stains with iron in it.
• Will not etch or damage even the most delicate surfaces.
• Safe on washable hard surfaces.
• Fair dinkum magic spray! It really works.
• Removes old stubborn stains.
• Easy to use. No scrubbing required.
• Septic safe.
• Non-caustic. Phosphate free.
• Eco-friendly. Biodegradable.
• 100% cruelty free and never tested on animals.
• Ready to use. No mixing required.
• Australian made and owned.
Handy wall charts for easy to follow instructions and better safety.
This is a preview of the recently viewed products by the user.
Once the user has seen at least one product this snippet will be visible.
Recently viewed Products