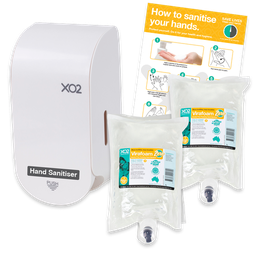 XO2® 'Virafoam Zero' Alcohol-Free Foaming Hand Sanitiser Starter Kit - Manual Push
Virafoam Zero Starter Kit
More bubbles, less troubles.
XO2's Virafoam Zero starter kit makes implementing a 5-star hand hygiene program simple, easy and cost effective. This starter kit includes 1 x Manual Push Foaming Hand Sanitiser Dispenser, 2 x Virafoam Zero Refills and 1 x 'How to wash your hands' Sign.
The Virafoam Zero dispenser and refill combination leads the industry with higher capacity, lower servicing requirements, less waste and less mess. Each refill gives you a huge 2500 uses and the dispenser is so durable that even a fly kick doesn't phase it :) It's designed to reduce your costs and deliver exceptional hand hygiene with far less effort from your staff.
XO2® Virafoam Zero formulation was created for your facility's hygiene and disease prevention program. It is an alcohol free, kid friendly hand sanitiser foam designed specifically to control the spread of germs and bacteria. It contains natural emollients to replenish the lipids in your skin, leaving your hands feeling soft and hygienically clean.
The non-hazardous formulation is also free of Triclosan, colour, fragrance and carcinogens!  XO2® Virafoam Zero is pH balanced with a non-irritant moisturising formula and great for keeping your skin clean, hygienic and at its best. The advanced formulation is great for high usage and for those with sensitive and dry skin.
The benefits
The dispenser
• Almost bulletproof! Super heavy duty and reliable design can cop some serious abuse.
• Generous (0.4ml) amount of soap dispensed per shot.
• Less servicing. Less run outs. Lower cost per use.
• Sealed hygienic vacuum refill pouch with foaming pump
• Pump is replaced every refill. Eliminates drips and pump issues.
• High capacity refill that controls usage.
• Each refill gives you 2500 uses. That's huge!
• 100% virgin ABS Engineering plastic.
• Compact footprint design BUT super high capacity.
• Keyless tamper proof locking system. No keys to lose or worry about.
• Water / Splashproof. Perfect for wet areas and outdoor applications.
• Easy to instal. Flat back with large surface area for tape and adhesive mounting options.
• Handy 'How to change a refill' instructions on the inside of the dispenser :)


The refill
• Kills 99.999% of germs.
• Dermatologically tested.
• Child and pet friendly.
• Zero alcohol, Triclosan, Parabens, Silicones, Phosphates or carcinogens.
• Zero fragrance and colours.
• Zero greasy hands.
• Loves the skin. Moisturises and conditions.
• High capacity refill that controls usage.
• Each refill gives you 2500 uses. That's huge!
• Less servicing. Less run outs. Lower cost per use.
• Hygienically sealed refill. Minimises the risk of contamination.
• Ideal for sensitive and dry skin.
• Non hazardous, fast drying, food safe.
• Reduced landfill. Recyclable vacuum refill bag design.
• Eco-friendly. Biodegradable.
• 100% cruelty free and never tested on animals.
• Australian made and owned.
• Ingredients: Aqua, Glycerine, Disodium EDTA, Benzalkonium chloride, Cetrinomium chloride, Lauramine oxide, Cocamidopropyl betaine, Citric acid.
Handy wall charts for easy to follow instructions and better safety.
Blog
Hand Hygiene Saves Lives. The Training Guide.
Hand washing is considered to be the most important single measure in preventing the spread of disease. This guide explains how to wash and sanitise your hands in a way that protects you from disease and viruses. It also covers why hand hygiene is so important and how to encourage better hand hygiene practices in your workplace.
This is a preview of the recently viewed products by the user.
Once the user has seen at least one product this snippet will be visible.
Recently viewed Products